dataset
Prix des carburants et informations Points de vente - Flux quotidien
Les données mises à disposition sont les informations extraites du système d'information « Prix Carburants ». Ces données concernent les points de ventes ouverts référencés sur le site https://www.prix-carburants.gouv.fr (Arrêté ministériel du 12 décembre 2006).
Les données disponibles comprennent :
Les informations générales sur le point de vente : adresse, coordonnées géographiques, horaires d'ouverture et services proposés ;
Les prix et les informations figurant dans le système d'information;
Les ruptures de stock de carburants ;
Les fermetures définitives ou temporaires des points de vente.
Le flux de données quotidien contient les données à la date J-1 ( veille du jour en cours).
Visualization
Visualization of the resource "Export au format CSV".
Reuses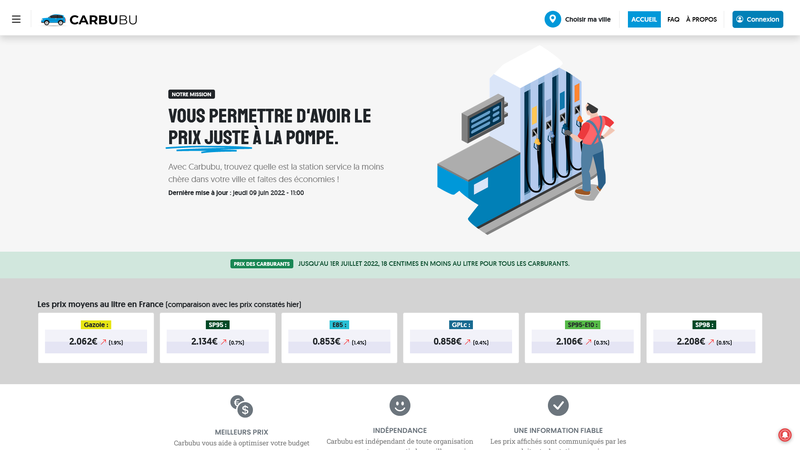 Carbubu.fr - Le prix des carburants
Carbubu est une application qui permets de connaître en quelques clics le prix des carburants en partant des jeux de données fournies par le Ministère de l'économie, des finances et de la relance.
Vous pouvez :
Voir en quelques secondes quelle est la station la moins chère selon un carburant
Choisir votre carburant et trier les résultats
Changer de ville en quelques clics (sur les villes couvertes)
Backed up resources
Displaying the last 25 backed up resources.
Other datasets of National